Do you ever just cruise eBay, seeing if anything interesting pops up? It's a habit of mine. Kind of a bad habit actually as I usually drain my Paypal account as soon as I have money in it. I love a good bargain and I occasionally end up finding some good deals. And some things that are steals - that later turn up somewhere cheaper.
I love to shop Janie & Jack for Georgia. I don't subscribe to magazines, so I never have the 25% off coupons. But I wait for all of the professional shoppers who do buy at a discount to list items a few dollars below retail. I can usually find sold out things. My best deal to date was a sold out swimsuit that I bought for $28. I actually bought two with the intention of Georgia wearing one this year and selling the second. It was way too big and I was able to sell them for $40 each to make a little spending money.
Here are some of the things I have my virtual eye on right now:
I never, ever, ever like Gymboree things in the store. Then as soon as something sells out I decide I love it and have to have it. I remember
not buying
this in the store, but now I know Georgia would like it. It is glittery, after all.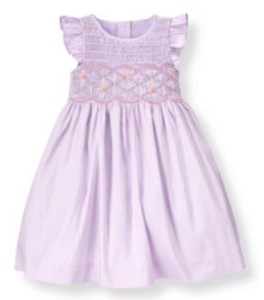 I like very classic dresses and pastel colors for Easter, although they don't flatter Georgia's coloring. This one is adorable, though! It's a silk hand-smocked from Janie & Jack.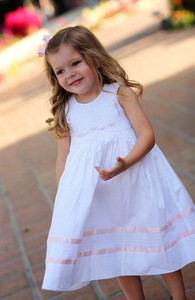 This one is just straight up adorable and has been on my watch list for awhile. It's from seller *smockedoutfits*. It would be pretty-casual in eyelet, too.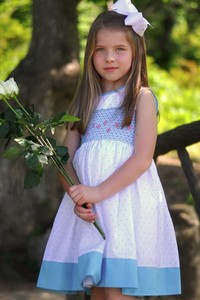 The brighter detail on this one would really flatter Georgia. I may have to cave and buy it for her to wear to church.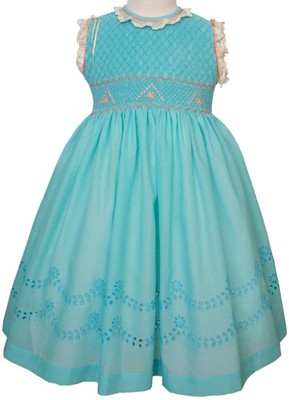 I've honestly been watching this dress for about a year. Georgia has gotten really vocal about what she will and won't wear, so I'm still on the fence. I'd probably get the ivory lace removed, but it would be amazingly pretty on her.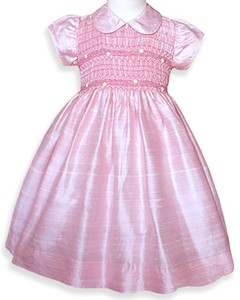 We have this dress in coral and it is stunning! I had it shortened to knee-length. The skirt has crinoline so it's very flouncy, so of course my girly-girl loves flouncing around in it. She also loves the tap-tap-tap of her church shoes when she walks. She is really something!
Dying over this Janie & Jack from last year's Nantucket Breeze line. If I remember correctly my store didn't carry baby sizes (not sure if they made a baby line), but I'm hoping I can scout out a 3T this year.
I also keep coming across this Sonoran Rain lipglass from the Blogger's Obsession line, that apparently sold out pretty quickly. I would ordinarily never buy a cosmetic from eBay, but it's sold out in stores and I'd like to try it. However, when I search for images, it doesn't look all that great on people. I think I'm watching some NEW for $9.99, so I may take the plunge.
Do you shop ebay? And more importantly, have you tried Sonoran Rain?
-->