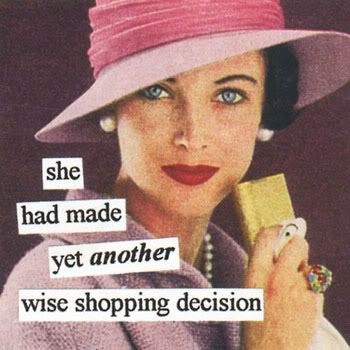 I left work early today for a little retail therapy. The last three weeks have been hectic and next week will only get worse since I, personally, have to give a presentation and conduct a one hour Q&A (I'm doing the answering) with our global controller. Wednesday afternoon can not be over soon enough!
This fantastic weather (85 degrees today!) had me itching for some new springtime clothes. I couldn't find any of these online to post photos, but they are all adorable. Hopefully I'll wear them soon to some fabulous event and have some photos to post!
white leather hobo bag

high-waist, wide leg seersucker pants (the seersucker print is more narrow than the typical, so they don't come across as pajamas)

navy short sleeve shirt with high neck to match pants

plain but pretty navy silk top which I can wear to work, with jeans, or out with a skirt

amazingly adorable knee-length wrap dress
I just got a 30% off coupon for DSW, so I am going to try to score some sandals tomorrow. Hopefully I'll have another break from studying so that David and I can go on a picnic.
Speaking of studying, D-Day for my Regulation (1/4 of the CPA exam) is scheduled for May 1. Thanks for keeping me in your prayers, I think it is helping since the studying is going pretty smoothly!